STELLA ARTOIS DRAUGHT MASTERS
The Stella Artois Draught Masters scheme goes hand in hand with Beer Marque accreditation.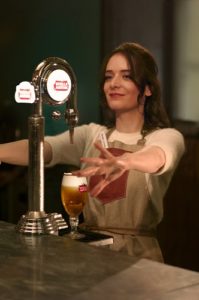 If the quality of beer is poor then 44% of drinkers would not order the same drink again (You Gov Survey 2017).
It is therefore crucial that pubs are giving drinkers a great Beer Experience every time they order and this is where Beer Marque comes in.
If an outlet can gain the Beer Marque accreditation then they will have demonstrated :
– Good practices and standards in the cellar
– Excellent beer in the glass (temperature, appearance, aroma and taste)
– Perfect serve quality and presentation (head size, head retention, glass cleanliness, appropriate glassware, hand not touching the rim, nozzle not touching the beer, logo facing the customer)
We will carry out a Scores on the Cellar Doors cellar audit, as well as checking between 4 and 5 different beer styles (premium lager, standard lager, stout, craft keg, cask). If you have come through the Draught Masters program with Stella Artois paying £100 of the fee then one of these beers must be Stella Artois*.
Give your customers the quality they deserve when buying your beer by ensuring every member of staff is taught how to pour the perfect pint and ensuring they want to keep coming back for more.
*Hopefully you will serve this to us having used the skimmer they provide!
The cost of Beer Marque in Year 1 is £195 + VAT. If Stella Artois has agreed to pay £100 of your fee then there is another £95 to pay. If you are part of a Pub Company then this may be paid by them, if you are an independent free trade account then you will probably have to pay this yourself. 
One of the Beer Marque team will be in touch shortly to collect payment over the phone and also to brief you on what the process will entail. A summary of this is:
– Assessor will call you to confirm a suitable date to visit. It is important that a person with a strong interest in the business or beer/cellar accompanies the assessor as it is an opportunity to learn
– Assessor carries out the visit in the cellar (Scores on the Cellar Doors) and also samples up to 5 beers (pint samples must be provided free of charge)
– You will be given a star rating on the day (0 – 5 stars). 3 stars must be achieved to pass the audit 
– You will then be sent the Beer Marque plaque, framed certificate, bar runners, drip mats and window stickers.
– You will receive an unannounced visit 6 months later where we will check just the beers (again, the samples must be provided free)
FIND US
B10 Seedbed Centre, Wyncolls Road, Severalls Business park, Colchcester, Esses, CO4 9HT